Breeders of English Springer Spaniel puppies in Montana.
Our Goal is to produce what we call door mats. Lazy non-aggressive Springer Spaniels that are great with children. We call them Velcro dogs as they want to be with their owner instead of chasing the children across the street lol. We love their  low-shedding gorgeous coats
The English Springer Spaniel is a medium-sized sporting dog with a docked tail. There are several acceptable color combinations: Some may be black or liver with white markings or predominately white with black or liver markings; tricolor (black and white or liver and white with tan markings – usually found on eyebrows, cheeks, insides of ears and under tail); blue or liver roan. Any white portions of the coat may be flecked with ticking.
Being a sporting dog, a Springer Spaniel requires a reasonable amount of exercise for both mental and physical well being. They are very affectionate dogs and require attention from their human companions daily.
We love to show off our dogs and invite you to come and visit with us and our beautiful Montana English Springer Spaniels. Please call ahead to arrange a visit as our schedule is very busy so we need to know in advance when you want to visit. Our dogs are not kenneled, they live in our home and have a large fenced front yard to play in.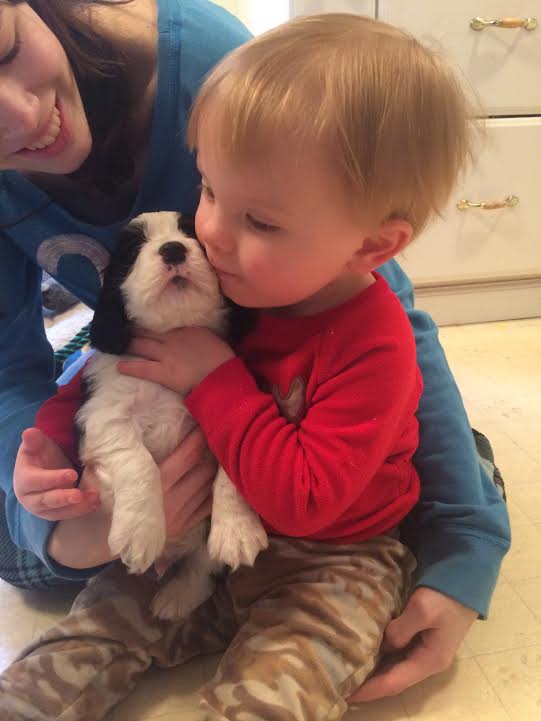 Hello, I'm Heidi 
I have been breeding Golden Retrievers for over 30 years. When I married the love of my life in 1991 he continued the journey of dog breeding with me. We now operate the business as a family, and love watching our grandson play with the puppies.  In 2014 we acquired our first English Springer Spaniel. We still love our Goldens but the Springer Spaniel is so much smaller and easier to handle and the fact that they are very low-shedding makes them the perfect pet for us.